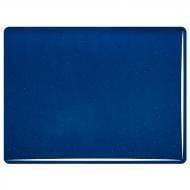 Copper Blue Transparent (1246) 3mm Sample
Our Samples are larger than Bullseye's in order to give you a better sense of the color. Keep several on hand to create color palettes and test transparent layers. Strikers will come pre-fired so you can see the fully developed color. 

Samples available in 3mm Opal, Transparent, Textures, Collage, Streaky and Irid, plus 2mm Transparent, Textures, Opal and Irid.
Sample size: 2 1/2" x 3"
Full sets are also available.
---