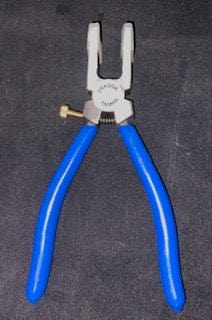 Dragon Small Running Pliers
Having trouble cutting narrow strips? The mini version of the classic running pliers is an invaluable tool for strip cutting. You will run strips like a pro with these pliers!
Easier to use than larger sized running pliers for people with hand issues.
6" length x 3/4" wide jaws. Adjustable screw and coated handles for comfortable cutting.
TIP: When running scores on 3mm glass, make sure the jaws on these pliers are very slightly opened. Loosen the adjustment screw, then tighten until you feel contact with the metal. Give a small half a turn. Perfect! For thicker glass, open jaws wider. Always use running pliers screw side up. When the pads are worn, you can flip them over. Never use pliers with worn pads. Replacement pads are sold separately.
---